Visit Sougia village in Chania prefecture with a rental car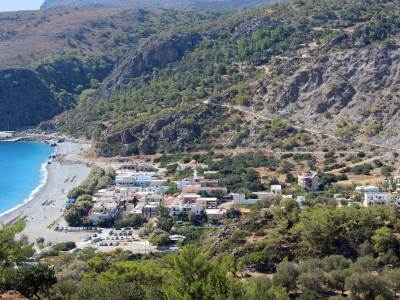 Sougia is beautiful small village, about 70 kilometers south of Chania town. Its built along the seaside, at the exit of the gorge Agia Irini, a beautiful place for hiking.
The village is small and ideal for relaxing vacations next to the sea. The main road, which separates the beach from the village, ends up at a small port. From there you can take the boat that leads you to the gorgeous island Gavdos.
In the main road, you will see more people walking, than cars passing by, making you feel safe and relaxed!
Along the road, you will find restaurants, taverns, cafeterias, and a few bars, that every night, have a different event! You will hear traditional music and have the chance to learn some traditional Cretan dances. The prices are very good, and the food is great.
The beach is beautiful, clean and large, with many trees that offer protection from the sun. Tents appear every summer and the beach on the east side continues to attract nudists, but less every year. Remember that the water here is quite colder than the north coast. Also, the sea deepens suddenly, so small children need supervision when swimming or playing on the beach.
From Sougia starts a path that in about two hours takes you to the ancient city of Lissos, the second port of Elyros. If you are not fan of hiking, you can go by boat from Sougia. Lissos was famous for its Asklepieion and the thermal waters and still has its natural, relaxing beauty. Before starting your trip to Sougia, keep in mind that there is no gas station, pharmacy or bank in the village, but you can find an ATM.
Explore Sougia and the surrounding areas with a rental car from Autohire Chania!