Rent a car in Chania and visit Samaria Gorge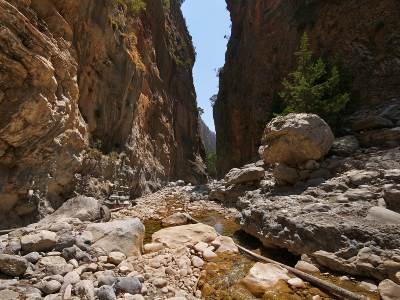 Samaria Gorge is located in the White Mountain's National Park, at an altitude of about 1,200 meters. It belongs to the regional unit of Chania, southwest Crete, and offers protection to more than 400 species of animals and plants, many of them endemic of Crete!
The gorge of Samaria, is the second longest in Europe, with a total length of 16 kilometers and a width that is 150 meters at the widest point and only 3 meters at the narrowest.
It's a beautiful and "must" place to visit if you travel to Crete and especially Chania. The walk through Samaria National Park, is 13 kilometers and about 6 to 8 hours until you reach the end of the gorge. But if you want to see the shores of the Libyan sea, and the village of Agia Roumeli you need to walk 3 kilometers more.
One of the most attractive part of the gorge, is the path where the gorge stretches to 3 meters but the height of the surrounding rocks is 300 meters. This part, is named "Gates" and you can imagine the reason! On your way through the gorge, you will find the village of Samaria, lonely and abandonded, but beautiful and hidden inside the national park.
The way through the gorge requires comfortable footwear and a good level of physical fitness. If you don't want to walk all the way down the gorge, you can go half way till you reach the village, but if you want to make an effort till the end of the gorge, a beautiful village with calm beaches is awaiting, and you could spend the night there!
In order to reach the entrance of Samaria Gorge you can rent a car from Autohire Chania, for more information visit our reservation page!