Rent a car and visit Ancient Lissos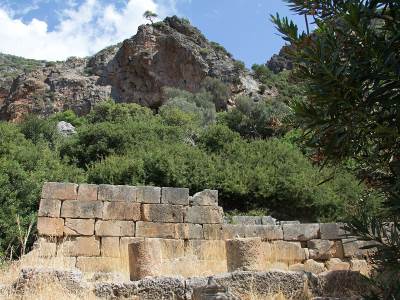 Lissos is the second most important and interesting archaeological site in Crete, placed in a beautiful location about 70 km from the city of Chania.
The ruins of the city are preserved between Paleochora and Sougia, with a large number of sculptures that were found by archaeologists. Among the sculptures, were found the famous statues of Asklepios, Hygeia and Pluto.
In ancient times, Lissos was a harbour of the city of Elyros, a city that flourished in the Hellenistic, Roman and first Byzantine periods. Lissos was know for the famous temple of Asklepios, and its local healing waters. These same waters, still flow freely in the area of ancient Lissos, and from the ruins of the temple you can still see the well preserved beautiful mosaic!
The excavations at Lissos, are not yet completed, leaving space for many interesting archaeological treasures hidden there. Except the temple of Asklepios you will find the remains of a theater, spa baths, 2 little beautiful chapels, remains of habitations, an aqueduct, and a roman necropolis!
The best way to reach ancient Lissos, is to rent a car for a drive to the village of Sougia and take from the harbor of Sougia a boat (about 20 minutes of a peaceful trip) or hike through the beautiful Lissos gorge for about 1,5 hour. The gorge is one of the best locations for hiking, with beautiful natural sights.
When you meet your destination, you will notice that the atmosphere is incredibly peaceful and you will enjoy a swim in the small pebble beach.
Tip: If you want to spend the day in ancient Lissos, you need to have food supplies because nobody lives there!