Palaiochora Chania a place to visit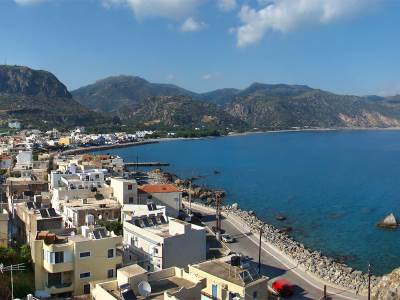 Paleochora Chania is a coastal town located on the south west coast of Crete in a distance of approximately 70 kilometers from Chania town. It is built on a peninsula between two picturesque bays at the Libyan Sea.
Paleochora has the natural advantage of being situated between two bays, the eastern and the western. The small peninsula on which it is located, starts from the surrounding mountains. These mountains have a special beauty and enrich the natural landscape.
The western bay of Paleochora is defined by a beautiful harbor, with a lighthouse onto a small islet called Schistonisi. The east bay differs from the west, it has pebbles and rocks and a great view of the White Mountains (Leuka Oroi). The pier in the bay serves tourists who wish to visit Sougia, Agia Roumeli, Gavdos, Elafonisi and other interesting sites.
The climate of Paleochora from early May until the end of October is very calm and the sea temperature from May until October is higher than most countries regions of Europe. In the winter the rainfall is about 400 to 450 mm per year and the average temperature is 19,5 °. In general the maximum temperature is 41,5 ° and the minimum 6-7 °.
Paleochora has beautiful and extensive beaches in which you can make all sorts of activities. Pachia Ammos, Chalikia, Keratides, Gianiskari, Plakaki, the bay Grammeno and the beach of Krios are the most notable ones.