Lake Kournas in Chania, the only freshwater lake in Crete!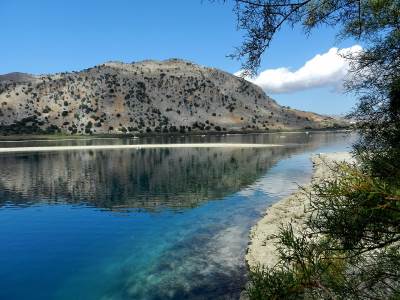 Kournas lake, is located 49 kilometers far from the town of Chania, and is the only natural lake in Crete with fresh water. It is considered a protected area, as it gives shelter to many species of rare birds, and a rare species of turtle. At the lake also exist water snakes and eels.
The size of lake Kourna is about 579 acres and the deepest point reaches 22 meters while the landscape in which the lake was created is magnificent, between the hills.
There are two natural sources, while the lake is fed by the waters that descend from the surrounding hills. There are two natural springs, while the lake is also supplied by the waters that descend from the hills and the surrounding mountains.
The visitors, during the summer season, can enjoy a swim in the clear waters of the lake, as well as many activities, like a walk around the lake, or a ride on a pedal boat. Those who love photography, will find a rich thematic material in the landscape.
Around the lake, there are many restaurants and cafes where you can enjoy a coffee overlooking the lake or eat a traditional Cretan lunch. On some parts, the lake forms natural beaches, so you can enjoy a sunbath after swimming. There are also sunbeds and umbrellas for those who like to have more comfort.
Rent a car from Autohire Chania and explore Crete!