The beautiful island of Gavdos in Chania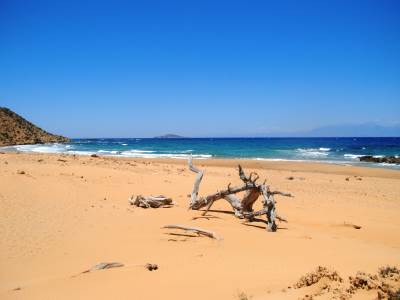 Gavdos is a beautiful small island located south of Chania prefecture, it is approximately 25 nautical miles off the south coast of Crete in the Libyan sea. Gavdos is also the southest point of Greece.
Gavdos island has only a few permanent residents but during the summer it attracts a lot of tourists. Most of the tourists are campers due to the limited touristic services that the island provides.
The capital of Gavdos is the village Kastri and the second most populated village is Vatsiana. At the northwest of Gavdos there is a small islet called Gavdopoula (which means little Gavdos in Greek).
According to archaeological findings Gavdos was inhabited since the Neolithic times. After the Hellenistic era Gavdos was occupied by the Romans and then by the Ottoman empire. During the 16th century Gavdos had a population up to 8000 inhabitants but due to the raging piracy in Mediterranean that time and especially the Saracen pirates the population had declined to less than 1000 in the 19th century.
The island of Gavdos is ideal for camping and hiking and a wonderful destination for people that enjoy nature and relaxation. The most notable beaches that you must visit during your stay are Sarakiniko, Agios Ioannis and Korfos.
The only way to get to Gavdos is by boat, in summer there are many boats every week that you can take either from Paleochora or Chora Sfakion to Gavdos. You can rent a car from Autohire Chania to either Paleochora or Chora Sfakion and then take a boat to beautiful and tranquil Gavdos!