Georgioupolis - a beautiful seaside town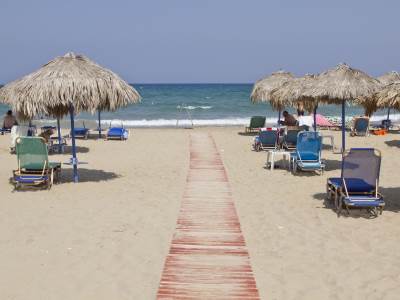 Georgioupolis is located approximately 38 km southeast of Chania, in West Crete. Georgioupolis is built in a green landscape with a large beach. Just before the town of Georgioupolis, a little lake is formed, by the river Almyros which passes through the town.
Georgioupolis is a popular tourist destination, about 20 minutes from the town of Chania and 50 kilometers from Chania airport. It's a village with many restaurants and shops in the narrow, picturesque streets.
The amenities are really good for every kind of visitor, groups of friends, families and couples, having an interesting nightlife for every taste, many restaurants and taverns and touristic shops.
From the village of Georgioupolis, you can make everyday excursions to the nearby towns and villages, where you will meet beautiful beaches and great archaeological interest sites.
The small harbor of Georgioupolis, is ideal for a walk, while the beaches stretch at both sides of the harbor, making a fantastic scenery.