Visit the monastery of Holy Trinity (Agia Triada) in Chania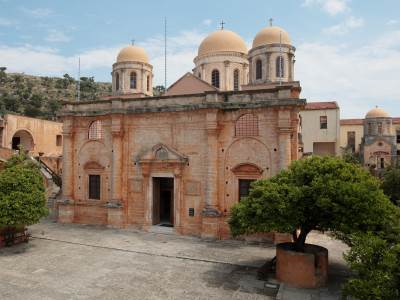 The Monastery of Agia Triada (Holy Trinity in English) is one of the most impressive monasteries you will see in Crete and is located in Akrotiri peninsula in Chania, 15 kilometers north of the city of Chania.
The road to the monastery is easy, with many signs guiding you. The route is pleasant, with wonderful scenery, while the final straight to the monastery, is surrounded by impressive cypress trees.
The Holy Trinity Monastery is one of the most important monasteries in Crete, both for its architecture as for its impact and contribution to the education of the citizens of the island. It is really worth a visit. It boasts a facade with Doric columns and Renaissance elements.
The monks who built the monastery, Jeremiah and Lawrence, two brothers highly educated, with knowledge of architecture, history and Roman, edited themselves, the plans and construction of the building.
The monastery was built in 1634, where there was formerly a small chapel dedicated to the Holy Apostles. The space inside and outside is beautiful, with well-tended and blooming gardens, while you will have the opportunity to see great exhibition of wood carvings and pictures, hosted in the museum of the monastery.
In the southern part of the monastery you will find the library of the monastery, rich and rare. Large part of the relics, was destroyed by the Turks during the revolution of 1821. The completion of construction of the Holy Trinity monastery, was held in 1830.
Choose a rental car from Autohire Chania rent a car and visit the beautiful monastery!